Our History
The Museum of Art | Fort Collins was originally incorporated in 1983 as Horizons Gallery of Contemporary Art and founded by artist, writer and musician Roz Spencer, who is credited with bringing contemporary art and artists to Fort Collins. Under Roz's direction, the fledgling gallery then bought and moved into the old Post Office building in Old Town Fort Collins in December 1990 and became the One West Contemporary Art Center. It held its first exhibition in the new building in January 1991.
The Old Post Office building where the museum is housed in is a three-story Second Renaissance Revival structure designed by James Knox Taylor, the Supervising Architect for the U.S. Treasury. It was built in 1911 and was described at the time as the "finest building in the city." The Post Office building is listed on the National Register of Historic Places and is a designated Fort Collins local landmark.
Mission
To boldly explore contemporary society through art–enlightening, educating, and providing arts leadership for our region. We connect art, artists and community.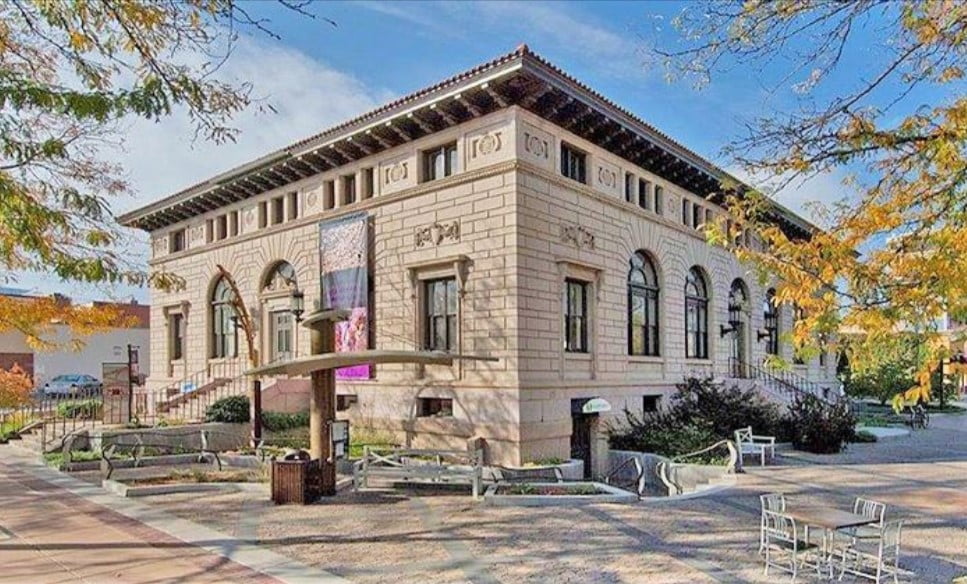 Vision
To provide the region with a quality art museum and art experiences.
We will do this by sparking thought and conversations with community members, museum members, patrons, artists and businesses throughout the region to understand their interests, expanding beyond the walls of the building.
We will create exhibitions and programs that inspire, teach and speak to a variety of community interests.
We will serve in an arts leadership role that connects art, artists and community through shared experiences.
We will stand resilient in the face of financial needs (issues) by creating exhibitions and programs that create a committed audience, bringing increased revenue, donations, awards and recognition throughout the Mountain West region.
We will be successful by staying focused on our guiding principles: connected, relevant and visionary.
We will create a facility that is a recognizable and desired destination.
Values
Connection – MoA strives to be engaged with the community, both artists and those who consume art. To provide leadership and connection between all forms of art in the community.
Relevance – Relevancy is a shifting goal that MoA strives to understand through art that is inspirational, inclusive, accessible, informative, and thought-provoking. Connecting people and ideas.
Visionary – By focusing on a bold vision for exhibitions, programs, and the facility that houses them, as well as going beyond the walls of the museum, MoA will focus on creative and innovative solutions to provide inspirational service.